The Fan's Seventh Anniversary Party is a hinted party in Club Penguin that is suppossed to start on February 26th, 2014. It was announced by The Fan (MarioFan7589) on a Twitter post. It had said the following:
  "@DarkHQCP; nope! Even better! I'm planning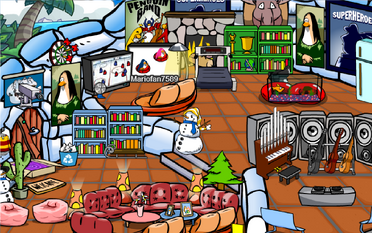 my first ever anniversary party! The party is for
  my seventh year as of being on YouTube!"
There will be cake, and two exclusive free items, which are:
The Fan's 7th Annerversary Background, and
The Fan's 7th Anniversary Souvenir.
The background in the party isn't really given out by mascots. As if you met a mascot at the party, you would get their old background, but since Lulu is new, she will have the same options on her playercard, without the "Gift" simbol.
This is the first national event to go to a mascot's igloo and have a party there.
Others...
Edit