The Fan's Headphones is The Fan's current head item. If permed, it will result a ban, but only for five minutes.
==Trivia==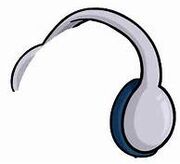 Becuase of the banning time being so short, if this item is permed, it won't be in your inventory.
This item is simalar to the real Headphones on Club Penguin.
In artwork for his newspaper, he is sometimes seen with another head item on, but is seen mostly with a real series of club penguin items, Toques.