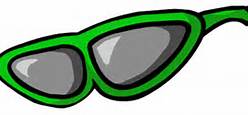 The Fan's Coolio Sunglasses were only worn by The Fan (MarioFan7589) at the Iceberg Opening party. It is a bait item.
This is, for some strange reason, looks like Aunt arctic's glasses, but only with shading in.
This is the second item that was a temporarly item ever seen on Club Penguin.