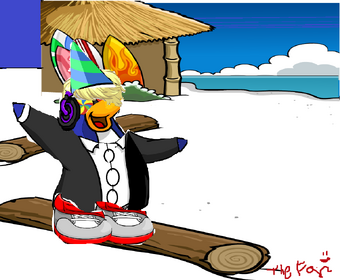 The Fan's Celeration Givaway is an exclusive, extremely rare background. It can only be obtained by meeting
The Fan (MarioFan7589)
during the Cove Yearbook Party 2015.
This is one of two backgrounds who have the Surf Shack in the landscape.
Two of The Fan's head items are the Purple Headphones and the 1st Annervirsary Party-Hat.
It isn't proper in buisiness placemanship to have on no
tie, as The Fan is seen without one on.
He is wearing a red version of Franky's Shoes.
External Links
Edit