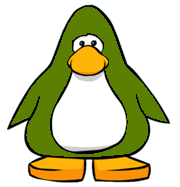 The Pistachio is a color coming soon to Club Penguin. Only one penguin, namely Color Editor, has this color.
For some unknown reasons, hacker can't even get this item.
It was first seen in the Color Vote 2014 when Color Editor was declared as a mascot.
No one knows when it will be released.
Some say that this will be released together with Cotton Candy on the next Color Vote.